Most consumers are very cynical towards marketing. Ask any Nielsen researcher. Between 50% and 70% of consumers don't trust marketing messages.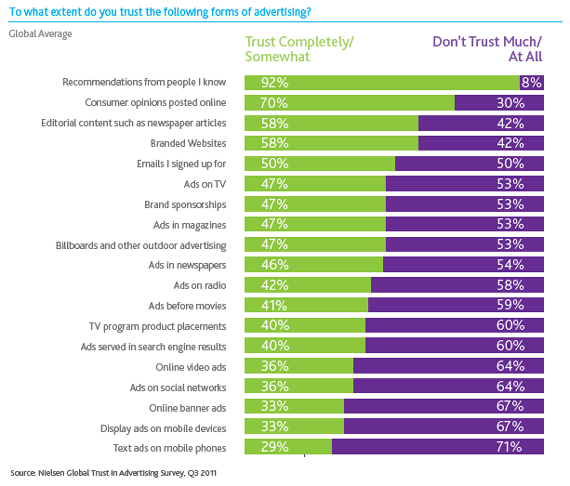 As a consumer, I share some of this cynicism. As a professional marketer, I am often appalled at some of the lousy marketing practises that continue to add fuel to the cynicism fire.
Two examples come immediately to mind:
Shaw TV's Celebrity Apprentice contest
Canadian Tire's scratch-and-win promotion
Let's start with Shaw. Despite the fact the 'reality' show is broadcast in the timeslot-of-death that is late night Sundays, has little to no redeeming value, features Donald Trump reigning kinglike over all, Celebrity Apprentice must have some fans. Just no-one I know.
Anyway, it seems Shaw, for reasons known only to them, wants to push some viewers to the show because it's running a promo. Only the promo isn't much of an investment, and certainly isn't enough to drive more viewers.
Enter to win two tickets to be in-studio for the season finale of Celebrity Apprentice in New York. In addition, there are return flights to NYC, two nights in a hotel (no word on which one), and $500 spending money.
Now, don't get me wrong. I would love to be in NYC. But two nights? It takes a day to fly there and a day to fly back. There's more time wasted travelling to and from than in the actual destination.
$500 spending money? What will that get you? A cab fare from the airport? You would have to be a huge fan, or desperately in need of an excuse for a few days away from work,  to enter the contest for that feeble prize.
Cynicism meter hit a 7.5 on this one.
OK. Now Canadian Tire. A scratch-and-win promo card arrives with the weekly bundle of straight-into-the-recycling doorstep-delivered flyers. "Scratch it at the till in the presence of the cashier. You could win $5000 in Canadian Tire gift cards." Obviously it is intended to drive store traffic. Great so far.
Off we went to CT. We needed some things anyway and, quite frankly, it's easier to shop at CT on a Sunday than it is at Costco or WalMart. In other words, the promo was working – we went to CT instead of the competition.  So, hand the cashier the promo card and lo and behold…
….we WIN!
My wife has a huge smile. She's already digging up the backyard and building an extravagant outdoor room. But wait… the prize is not a $5000 gift card. It's a $5-off coupon for M&M Meats! That's not even a consolation prize to the consolation prize. It certainly didn't console us.
Epic failure. Not only did we not win the main prize, we didn't win ANYTHING AT ALL. Instead, we were handed a coupon, which is not a gift, it's not a prize, but the opportunity to spend more money at another retailer.
BAH!
Cynicism meter hit a 9.5 on this one, kids!
Lesson here? If you are going to run a promotion, regardless of what the promotion is, please, please make it worthwhile. Make sure it's of value to your target market. If not, you're just annoying a lot of people who will blog about it. And people like you will read the blog and agree with it and avoid the callous, valueless promotion.
Why?
Because all you're doing with your penny-pinching promos is insult your customers, and making them more cynical, and giving them reason to not watch your TV shows, or buy your products.