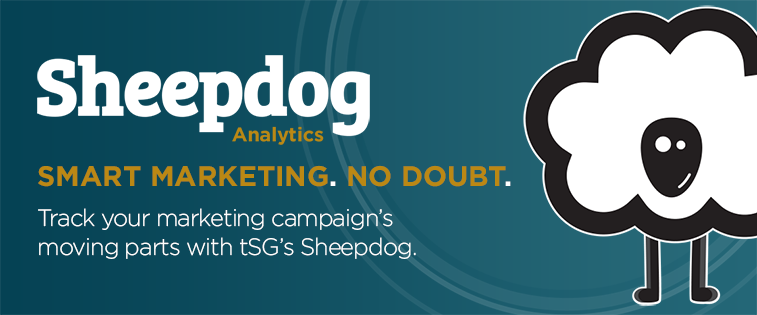 Track your marketing campaign's moving parts with tSG's Sheepdog.
Your community has a great website, clever videos, timely Twitter posts, eye-catching ads and snappy radio spots. But are they working to bring your organization the awareness and economic benefits you want? Or are you getting fleeced? Your time and money are valuable, and the last thing you need is extra fluff in your budget.
Send out the Sheepdog!
tSG's Sheepdog service monitors the effectiveness of your marketing and communications strategies to help you get the best results, potentially with less money spent. It's a loyal companion that rounds up the herd, keeps everything moving in the right direction and redirects any members of the flock that may have strayed off course.
You need more than a jumble of numbers showing website visits, page views, geography of visitors, social media engagement and conversion data. tSG's Sheepdog not only sniffs out and brings in online analysis of your marketing and communications, it provides interpretation and strategic guidance based on the results. And if you make changes, you can count on tSG's Sheepdog to show you how those changes made a difference.
tSG's Sheepdog provides the accountability, guidance and assurance for your marketing program that otherwise might be hard to pinpoint. You can count on tSG's Sheepdog to keep watch over your drove, freeing up your time to make quick and smart decisions in other areas of your organization.
economic development
tourism marketing
business and investment attraction, and
communications programs.
Get in touch to start marketing smarter, today.